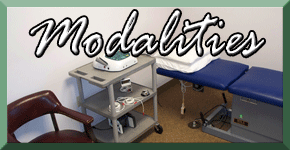 Our treatment rooms are equipped with the finest equipment to meet your needs.
We implement a variety of treatments including:
-Electrical Stimulation-
-Iontophoresis-
-Moist Heat & Cold Packs-
-Therapeutic Ultrasound-
-Phonophoresis-
-Manual Therapy-
-Massage-
-Back/Neck Traction-
-Assisted Range of Motion Stretches/Exercises-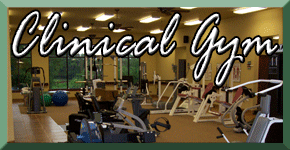 Our clinical gym is filled with equipment designed to meet a very wide variety of needs. Whether your problems stem from your back or limbs, there is something here that can help you.

We offer instruction and assistance in a broad selection of activities including:
-Flexibility Exercises-
-Strengthening Programs-
-Biodex Balance Training-
-Fitness & Wellness Training-
-Home Exercise Program Instruction-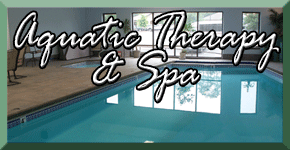 Our aquatic therapy center can help you achieve significant relief. Use of the pool for therapeutic exercises can be of considerable assistance to those with limited mobility.
The pool is 4 feet deep from end to end, with no slope. The design works great for walking exercises, or any other exercises you may be prescribed.
We know how frustrating it can be to come into a cold pool when you are already hurting. So, we keep our pool at a very comfortable 94°, and our spa (hot tub) at a soothing 102°. We do everything we can to ensure that they stay at that perfect temperature.
Our pool is also very easy to access. Aside from the standard steps and rail bar for easy entry and exit, we also feature a hydraulic lift system that is very comfortable to use, and stable. No dangling precariously over the pool either, the seat is secured to the concrete around the pool and uses an electric system to gently move handicapped patients in and out of the pool.